YES! YOU CAN REMOVE SCRATCHES FROM ACRYLIC!
Micro-Mesh Finishing Cloth is Available in Rolls. Micro-Mesh is made with a flexible cloth backing. Micro-Mesh crystals recede slightly to present their sharp cutting edges EVENLY across the surface, cutting together on the same plane with a positive rake.
NOTE: Kits for both hand and mechanical application methods are available.
Micro-Mesh™ Surface Restoration Kit - Part No. KR-70
Removes swirls & scratches created by improper cleaning methods.
Removes haze and milkiness from interior / exterior windows.
Provides a final polish, leaving you with an ultra-clear finish.
Can be applied by hand or mechanically.
Approved for use by Boeing, Spec. D6-52021.
Approved for military use, NSN #5350-01-334-8997.
RESTORE TRANSPARENCY TO CLEAR & COLORED ACRYLICS
RESTORE SURFACE FINISH & REMOVE MINOR DAMAGE ON ACRYLICS
---
Aquarium Kit - Part No. 3KAQK
Kit contains:
1 - 3" x 4" Sheet 1800 MICRO-MESH
1 - 3" x 4" Sheet 2400 MICRO-MESH
1 - 3" x 4" Sheet 3200 MICRO-MESH
1 - 3" x 4" Sheet 4000 MICRO-MESH
1 - 3" x 4" Sheet 6000 MICRO-MESH
1 - 3" x 4" Sheet 8000 MICRO-MESH
1 - 2" x 3" Foam Sanding Block
1 - 1 oz. Bottle Anti-Static Cream
2 - Flannel Cloths
1 - Instructions
Removes scuffs and surface scratches from small acrylic acquariums. This hand kit will restore up to 20 square feet. For large aquariums we recommend our mechanical kits or larger hand acrylic kits.
---
Micro-Mesh™ Countertop Repair Kit - Part No. 3KCOUNT-MG
Replacements for the small abrasive pads found in Dupont's Corian Care Kit. These pads are 3 times larger.
You will receive:
4 - 3 in. X 4 in. MICRO-MESH PADS,
1 - 300AO/WHITE/300AO WHITE,
1 - 600AO YELLOW/800AO GREEN,
1 - 1500 PEACH/2400AO LILAC,
1 - 4000AO BLUE/12000AO GREY.
1 - 2oz. of MICRO-GLOSS
Instructions clearly explain how this kit will remove stains, burn marks, scratches and scuffs to any solid surface countertop or sink. This kit will allow you to match any surface from matte to high gloss.
Part No. 3KCount-MG
$19.95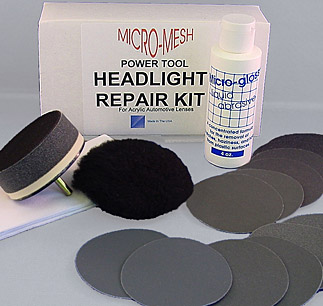 Acrylic Headlight Restoral - Kit Part No. 3KHDLGTM
Return your headlights to "Like New" Condition, improving illumination and appearance. This system includes applicator pad for use with hand held electric drills.
Drivers and passengers alike need and appreciate the clear view that well maintained headlights provide. Comfort, enjoyment, but more importantly - SAFETY, are all requirements today! The smallest of scratches can lead to crazing. By keeping headlights smooth and optically clear, through regular maintenance, crazing can be avoided.
Each kit contains:
2 - 120 Grit wet/dry sandpaper 3" loop discs
2 - 220 Grit wet/dry sandpaper 3" loop discs
2 - 400 Grit wet/dry sandpaper 3" loop discs
2 - 1500 Micro-Mesh 3" loop discs
2 - 2400 Micro-Mesh 3" loop discs
2 - 3600 Micro-Mesh 3" loop discs
1 - 3" TufBuf lambswool buffing pad
1 - 4 oz. bottle Micro-Gloss liquid abrasive
1 - Instructions
---