BUY THE BOX OR CASE FOR BIG SAVINGS!
Acryl-Pulls are solvent cementable, labor saving Acrylic Pulls for plastic fabrication. They're an attractive alternative to acrylic spheres or cubes and cost less than pulls made from rod or sheet. Available in three sizes each suitable for a variety of applications.
Acryl-Pulls improve the look and feel of fabricated parts. Their smooth surfaces are easy to clean and the highly polished finish is crystal clear. Acryl-Pulls are simple to apply. Micro Dots™ guarantee a strong, bubble-free bond. Special vents let solvent vapor escape which prevents chemical crazing.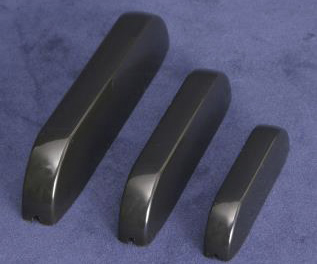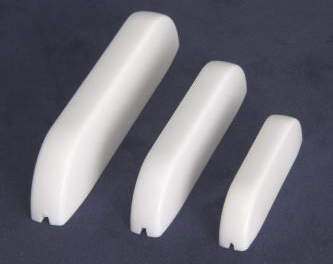 Limited to Stock on Hand
ALL SALES FINAL
| Part No. | Size | Color | LxWxH | Each | Box/100 | Case/600 |
| --- | --- | --- | --- | --- | --- | --- |
| AP3B | Small | Black | 2" x 3/8" x 1/2" | 35¢ | $15.00 | $80.00 |
| AP3W | Small | White | 2" x 3/8" x 1/2" | 35¢ | $15.00 | $80.00 |
| AP2B | Medium | Black | 2-3/4" x 7/16" x 5/8" | 40¢ | $20.00 | $90.00 |
| AP2W | Medium | White | 2-3/4" x 7/16" x 5/8" | 40¢ | $20.00 | $90.00 |
| AP1B | Large | Black | 3-1/2"x1/2"x3/4" | 45¢ | $25.00 | $132.00 |
| AP1W | Large | White | 3-1/2"x1/2"x3/4" | 45¢ | $25.00 | $132.00 |